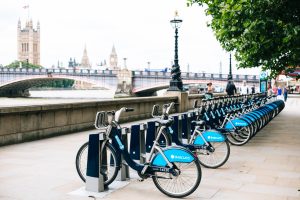 First time visitors to London are likely to be overwhelmed by the range of different transportation options that are available. While London is by no means one of the world's largest cities, it is one of the oldest and the way that the transportation network has developed often appears to be rather chaotic. Here is an overview of some of the ways of getting around London.
Taxis
The famous black London cabs can be found all over the city and take a taxi is certainly one of the most straightforward ways of getting from A to B. however, taxi fares in London tend to be rather high and during peak hours a number of vehicles on the road can make traveling by taxi rather show.
London Buses
Traveling on one of the big red London buses is certainly one of the cheapest ways of getting around the city, if not the fastest. However, the advantage of traveling by bus for visitors to the city is that they will be able to grab a seat upstairs and look around the city as they go. Many buses run on routes around the city centre and all that visitors need to do is sit back and enjoy the ride as they are taken around London in comfort and style. Many London buses also run at night, which is particularly convenient for nightlife lovers.
The Tube
This is, without a doubt, the quickest way of getting around London, although figuring out the tangle of different tube lines on the Underground map can be very confusing at first. Fortunately, there is always someone on hand at the train station to ask for assistance and point visitors in the right direction. The tube gets very crowded at commuter times and it is best to try and avoid using it at these times if possible.