Situated near to Hampstead Heath, Hampstead is a suburban development in the London borough of Camden, just four miles northwest of Charing Cross.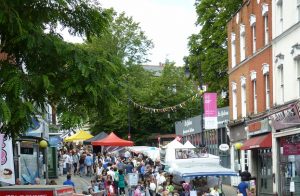 The region's more significant history dates back to the 17th century, although reference is made to it in the Domesday Book of 1086. The area is renowned for its famous residents, both past, and present, who have included John Keats, Robert Louis Stevenson, George Orwell and Sigmund Freud, and now include Michael Foot, Peter O'Toole, George Michael and Ralph Fiennes.
For a spot of history, visitors should head for Burgh House, where they'll find an early 18th-century construction that was originally the home of Henry and Hannah Sewell.
The first floor of the house is home to the Hampstead Museum and offers visitors the chance to learn something about the history of both the house and the Hampstead area. Among the museum's permanent displays are works by John Constable and Helen Allingham.
Also worthy of note in the area is Hampstead Heath, a 791-acre park providing a welcome patch of greenbelt which visitors can head to take refuge from the urban jungle. The park features 25 ponds as well as many areas of ancient woodland, grassland, bog, and hedgerows. Hampstead Heath is an ideal place to head for a spot of bird-watching, or alternatively, for a pleasant afternoon walk.
Hampstead is not renowned for being a tourist area; however, visitors will find a number of accommodation options including a Holiday Inn and some smaller B&B establishments. The area is famous for its selection of restaurants and old fashioned pubs, which include The Spaniard's Inn, The Old Bull & Bush, The Holly Bush and the White Bear. For alternative evening entertainment, the area is home to both cinema and theater venues as well as a handful of nightclubs.